As a matter of fact, there are plenty of Ad Networks out there. So the Big decision for you is to choose a powerful Ad Network(s) which can generate the highest revenue for you.
I perfectly understand that choosing the Best Ad Networks is not an easy task. Especially for newbie bloggers who are making their first attempt in online publishing.
That's the reason which prompted me to come up with this post where I list out
Best Ad Networks for Publishers.
Here, you have to understand that Publishers are bloggers or website owners who want to run Ads on their blogs or websites for revenue generation.
Then, there are various types of Ad Networks. Some cater to a particular type of Ads and others give you the option of having different types of Ads on your blog or website.
In general, Ad Networks serve In-text Ads, Contextual Ads, CPM Ads, CPC Ads, Banner Ads, Pop-Under Ads, CPA Ads, CPS Ads, Affiliate Networks, CPA Affiliate Networks and Native Ads. Some specialize in particular type of Ads, other serve combination of Ads.
There's no fool-proof method of judging which Ad Network works best for you. You have to experiment with Ad Networks to find out which ones are generating the highest revenue for your blog or website.
Here, we have selected some of the best Ad Networks for Bloggers which are secure, trustworthy, and give you the best opportunity to monetize your blog or website. They serve millions of Ad impressions daily, have a large network of advertisers and publishers, and provide decent money to publishers.
So, if you want to monetize your blog, you have to pick out the best Ad Networks. The list will give you a good lot of options and make easy for you in picking the most suitable Ad Network for your blog or website.
These networks are not of specific ad types we have listed top ad networks of various advertising options. We have listed traditional Contextual or CPC networks, CPM networks , POP- UP/POP-Under Networks as well as affiliate networks which will help you to monetize your website or blog with various ways.
ALSO SEE: Top 10 Most Educated Tribes In Nigeria
Now, let us move on and see some of the
best Ad Networks for Publishers .
Top 16 Best Ads Network
1. Google Adsense
. Google Adsense is recognized as the world's largest and best online advertising network. Most importantly, it's free and provides you the opportunity to earn money by placing ads on your website. However, to get approved by Google Adsense is not easy. You have to follow Adsense quality guideline to get approved.
It is particularly known for serving CPC Ads and CPM Ads. It shows mobile ads, video ads, search result ads, display ads, and banner ads. The ads are relevant to your content. You can choose the type of ads that best fit your website. It has the largest network of online advertisers. It makes sure that only the highest paying ads go live on your website, so you get the most for your ads.
2. Propeller Ads
Propeller Ads is one of the fastest growing CPM Ads Network. It provides multiple Ad Formats. Propeller Ads makes it easy for you to select best-performing ad campaign. It serves various Ad Models such as CPM, CPC, CPA, and CPL. It ensures high ad quality by performing manual checks on advertisers. It provides publishers on-time payouts, detailed real-time reporting, and a personal account manager. It endeavors to provide the highest revenue per visitor. It has a multitude of display advertising solutions.
3. Revcontent Ads
Revcontent is recognized as one of the most selective and premium native ad networks in the world. It has grown to be one of the biggest content recommendation platforms on the internet. It currently serves 100 billion content recommendations a month across the globe. However, Revcontent is highly selective in choosing publishers. It supports transparent reporting and easy customization options for publishers.
4. Infolinks Ads
Infolinks is one of the best Ad Networks that enables publishers to monetize their website to the optimum level. It mainly provides In- Text CPM Ads. So, if you have a text based site or a blog, then Infolinks might prove to be a great option for generating revenue by advertising on your website.
They don't cover spaces so you can use other banner ads from other Ad Network for earning revenue for site content. Infolinks Ads are targeted for any relevant keyword from your content. They have no minimum traffic requirement for publishers. Infolinks works with the biggest advertisers in the world such as Facebook, Amazon, eBay, Microsoft, etc.
5. Media.net Ads
Media.net is one of the most popular Ad Network for Publishers. It provides a great opportunity to publishers to maximize revenue from their online content. It has one of the largest pools of advertisers in the world. Media.net serves contextual ads. It also supports desktop interstitial, in-content native, and mobile docked ads. It ensures a 100% fill rate across all verticals and ad formats. Some of its publishers include Reuters, Esquire, Elle, Forbes, Cosmopolitan, etc.
6. Adcash Ads
AdCash is a leading advertising network providing high-quality ads from leading brands at effective pricing models which are designed to increase revenue from your website. It supports Ad Models such as CPC, CPM, and CPA. It has a big ad inventory. Display formats include slide-in, background, interstitial, site under, footer, and more. There is no minimum traffic requirement for publishers.
7. PopAds
PopAds is mainly a pop-under ad network. It is a fast, efficient and secure advertising network. Publishers can monetize their website traffic through high-quality pop-under ads. It offers competent rates to publishers which depend on website traffic and website content. It also offers perfect support as well.
8. Adsterra Ads
Adsterra is another immensely popular premium ad network which serves as much as 50 billion geo- targeted ad impression a month. It provides Ad Models such as CPC, CPM, and CPA. It provides innovative advertising solutions for web and mobile advertisers and publishers worldwide.
Adsterra supports publishers from all verticals and assures monetization of their ad inventory. It provides various ad formats for the web and mobile platform including display banners, interstitial, popunders, direct links, sliders, and Pushup. It guarantees highest possible ad quality and security. Publishers get on-time payments.
9. Revenuehits Ads
RevenueHits is a PPC and CPM Ad Network for Publishers. It uses contextual and geo-targeted ad serving technology to serve ads on websites, mobile sites, add-ons, toolbar, widgets, and more. It serves over 1 billion ad impressions each day and provides 100% fill rate across all geographic locations. Besides display ads, RevenueHits also enables publishers to monetize their site using pop-ups, text ads, apps, widgets, and other custom formats.
10. Clicksor Ads
Clicksor is a Canada-based Ad Network. It serves over 900 million ad impressions on its publisher network sites. It offers various ad formats including banner ads, in-text ads, interstitials, rich media, layer ads, pop-up ads, pop-under, etc. It is a bid based CPC and CPM Ads Network.
Other Details:
Publisher Traffic Requirement: None
Minimum Payout: $50
Payment Method: e-check, bank transfer, Paypal
11. Chitika Ads
Chitika is one of the largest Ad Network with over 300,000 publishers. It serves Ads on CPC Model. Its approval process for new publishers is pretty easy. Moreover, it does not have any minimum traffic requirement. With Chitika, you can make money if you have traffic. It provides you the right mix of ads with Real Time Bidding. It furnishes an online publisher control panel with which you can easily monitor your ad impressions and revenue. Chitika is constantly evolving and makes every effort to maximize your yield.
12. Bidvertiser Ads
Bidvertiser Ad Network for Publishers provides interesting monetization model. Apart from providing PPC Ad Model wherein, a publisher earns money when an ad is clicked; the publisher also earns additional revenue when the click leads to a conversion (sale). Bidvertiser supports many ad formats such as banners, rectangles, skyscrapers, mobile, etc. Its reporting interface makes monitoring ad performance easy. You come to know click-through-rate, the amount you have earned as well as other information.
13. Maxbounty Ads
Max Bounty is a leading performance marketing network. It connects trusted and skilled affiliate marketers with high paying advertisers on a CPA basis. It is one of the biggest affiliate networks that you can trust to earn more, whether as an affiliate or as an advertiser. It works with the best advertisers and affiliates in the industry thereby cutting out fraud and mitigating risk.
14. Shareasale Ads
ShareASale is a popular Cost per Sale Affiliate Network. It has an ethical and transparent business model, efficient technology, and reliable network platform. It has been operating successfully for more than ten years. It runs an Advanced Affiliate Marketing Platform with a strong network of advertisers and affiliates.
15. Buysellds
BuySellAds is another rewarding Ad Network that connects publishers and advertisers. It allows publishers to set price for the Ad space on their website or blog. Advertisers can directly access the publishers on BuySellAds. The Ads are usually served on CPM Model. It functions as a marketplace for publishers and advertisers to buy and sell ads. However, its approval process is quite hard. The minimum traffic requirement is 15k visitors per month. The minimum payout is $20, and payment method is Paypal.
16. Adnow Ads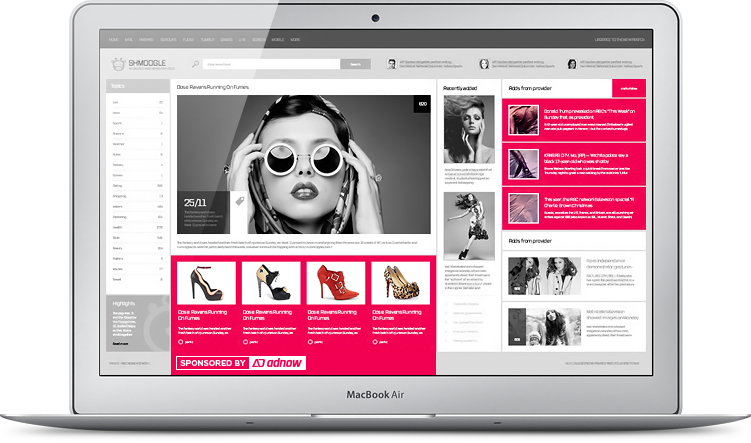 AdNow has a global reach with over 150000 publishers, 140000000 impressions per day, 1700 advertisers in over 107 countries. AdNow.com allows publishers to monetize their blogs by placing special widgets on their website.The Widgets are fully customizable. The publishers start receiving profits in a week.
Though it was doing rounds in the market for the past few years, native ads caught everyone's attention in the last year and since then have become a trending part of the advertising community. According to recent studies, native ads attract up to 60% more attention of customers in comparison to normal ad banners.
Also, non-English sites can join this native ad network and can publish in their local languages. Advertising format is same as the website format with an average native ad CTR of 1.15%. The setup process is quick and hassle-free.
AdNow provides global coverage and comes with competitive rates. The publishers also have the facility to track their revenue and performance real time.There is a 5% Referral program for the publishers.
Now it's left for you to choose the one that wil be best for you, also share your comment with us.
UNDER MAINTENANCE